Have Questions On Our Services?
Let Us Contact You.
Meet Aerobe, Robust & Eco
Aerobe, Robust and Eco are BioMicrobics Onsite Treatment Specialists (B.O.T.S.). Filthy pollutants don't stand a chance when this enthusiastic trio takes on the job!
Aerobe, Robust and Eco are the perfect "spokes team" for BioMicrobics – part bionic, part genius, all innovation. Forged from the very parts that compose BioMicrobics' technology, they embody the superior pollutant-fighting characteristics inherent in advanced wastewater and stormwater treatment systems. Teaming up to solve the most daunting water and wastewater dilemmas, they are SUPER social, LOVE to travel, and, most importantly, RESPECT the environment.
Capable as they are, they have the constant support of dedicated talent, knowledge, and expertise from the entire BioMicrobics Team and Global Distributor Network!
Sleep well tonight. Robust, Aerobe, and Eco are protecting our homes, schools, businesses, and waterways. Their goal: to be the sentinels of fragile ecosystems, defenders of all water resources, and guardians of the world's wastewater infrastructure. See their stories (below) that chronicle our S.O.S.–Save Our Septic® Wastewater Adventure Series Interested in the S.O.S.-Save Our Septic® Warranty Program? Click here.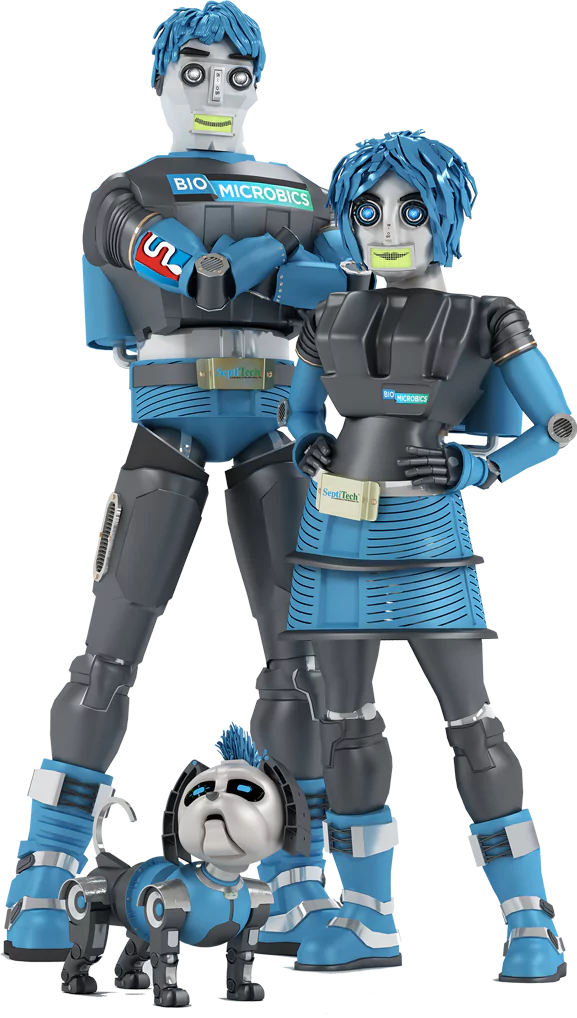 Read the S.O.S.–Save Our Septic®
Wastewater Adventure Series
Volume 13: The Secret Life of Droplets
Synopsis: Stormwater runoff can gather pollutants, sediments and garbage that [...]
Volume 14: Fear the FOG
Synopsis: Owners of restaurants and other commercial establishments should ensure [...]
Volume 15: A Troubled Summer…the Deadlines Begin!
Synopsis: A learning opportunity about the simplicity of a wastewater [...]
Volume 16: One simple solution
Synopsis: Dairy farmers want a disinfection alternative that is readily [...]
Volume 17: Out of sight, top of mind
Synopsis: Trickling filter systems sometimes bring high maintenance, high energy [...]
Volume 18: And Then the Rains Started
Synopsis: Stormwater runoff can flood impervious surfaces and increase water [...]